NABA Hosts ChangeMakers Summit
NABA is a professional association that assists Black professionals in achieving successful careers in accounting, business, and technology. SAU's student chapter of NABA recently hosted a two-day ChangeMakers Summit fully sponsored by Wells Fargo.
The first day included a panel discussion with SAU alums who are professionals at Wells Fargo. They provided tips and advice for being successful academically and professionally. They also gave guidance for obtaining Wells Fargo internships and entry-level positions.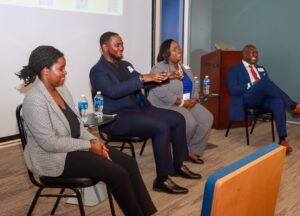 Wells Fargo Panelists (with SAU class): Breanna Dorway ('24) – HR Intern; D'Ontre Gilliard ('22) – Program Analyst; Joneka Smith ('05) – Lead Control Management Officer; and Julian Macaulay ('04) – SVP, Control Management Director.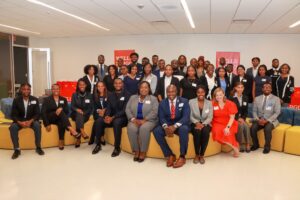 The second day included a community service event with over 30 students, Wells Fargo professionals, and School of Business faculty/staff. As October is Domestic Violence Awareness Month, some volunteers posted flyers in all the academic buildings to shed light on support services for victims. Other volunteers packed bins with hygiene items, household goods, cleaning supplies, and encouraging cards/tote bags. Upon completion, 40 product-filled bins were delivered to InterAct of Wake County, a shelter that helps victims of domestic and sexual violence.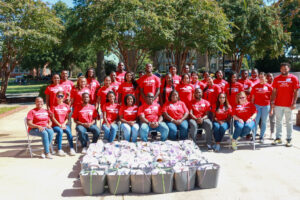 Leaders of the 2-day ChangeMakers Summit are seated and include the following (from l to r): NABA Executive Team – Evangeline Brodie, Marbella Cuchillas Alvarenga, Emmanuel Faison, Ashley Weekes, Breanna Dorway; and Wells Fargo Professionals Team – Julian Macaulay, Joneka Smith, D'Ontre Gilliard, Ayana Collins, and Alexandria Vanover.