SAU Partners with UNCF to Host Scholarship Day for Underserved Raleigh/Durham Students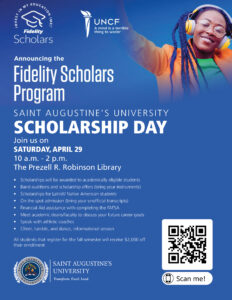 Saint Augustine's University (SAU) will host a Scholarship Day to provide underserved students in the Raleigh/Durham area an opportunity to apply for a four-year scholarship of up to more than $50,000. The in-person event occurs on Saturday, April 29th, from 10 a.m. to 2 p.m. in The Prezell R. Robinson Library.
Students attending the SAU Scholarship Day will be eligible for on-the-spot admissions. In addition, all students that are enrolled and admitted on that day will receive a $2,000 discount toward their fall enrollment. In addition to SAU's $2,000 discount, the SAU staff will help eligible new students who are residents in the Raleigh/Durham area with between a 2.5-3.5 grade point average (GPA) to learn more about and start their application for a four-year, UNCF Fidelity Scholarship of up to $55,000 that can be used at SAU.
As a president of a UNCF member institution, I am excited about the impact this program will have on historically black colleges and universities (HBCUs)," said SAU President Dr. Christine Johnson McPhail. "Partnerships such as these align with our agenda to expand access in higher education by providing the financial resources necessary for student success and university sustainability."
The Scholarship Day results from a $190 million donation from Fidelity Investments to UNCF to launch the Fidelity Scholars Program, designed to provide access to education and facilitate economic mobility for African American/Black, Latinx American, Native American, and Asian/Pacific Islander American students. As a UNCF-member institution, SAU will offer the opportunity to apply for UNCF Fidelity Scholarships to residents of the Raleigh/Durham area who are admitted to the university by May 5, 2023.
"This is an incredibly generous gift from Fidelity Investments," said Dr. Michael L. Lomax, president, and CEO, UNCF in a statement. "We are delighted to partner with a premier global financial services company to do this work. The Fidelity Scholars Program is exemplary, innovative and demonstrates the company's commitment to provide equal educational opportunities for low-income and underrepresented students who do not have the advantages of other students."
Also taking place at the SAU Scholarship Day are band auditions and scholarship offers for incoming students who wish to join the SAU Superior Sound Marching Band, an informational session for students interested in joining SAU's cheerleading, tumble, and dance teams, Financial Aid assistance with completing the FAFSA form, and an opportunity for students to meet SAU's faculty, deans, and athletic coaches.
Click here to learn more about the SAU Scholarship Day.