SAU Hosts Legislative Breakfast to Boost External Engagement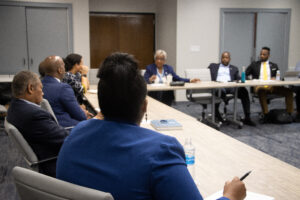 On Friday, April 21st, Saint Augustine's University (SAU) stepped closer to obtaining state and federal funding for its Campus Community Master Plan. The university's leadership team hosted a legislative breakfast and heard from three dynamic North Carolina legislators and two congressional staff members from the U.S. House of Representatives. Thank you to N.C. Senator Dan Blue (District 14 – Wake), N.C. Senate Democratic Leader; N.C. Representative Zack Hawkins (District 31 – Durham), NC HBCU Caucus Chair; N.C. Representative Abe Jones (District 38 – Wake), Ms. Salima Thomas, District Director, U.S. Congresswoman Valerie Foushee (NC-04), and Dr. Kimberly Moore, Civic Engagement Director, U.S. Congresswoman Deborah Ross (NC-02).
"Engagement with our elected officials plays a critical role in providing the support needed to implement our Campus Community Master Plan's initiatives, such as reimagining St. Agnes Hospital into a center for the study of health disparities," said SAU President Dr. Christine Johnson McPhail. "A very special thank you to Dr. Carter for hosting our legislative breakfast in an amazing way and to the SAU Institutional Advancement team for organizing an informative discussion."
Through the implementation of the Campus Community Master Plan, SAU desires to elevate and expand its academic reputation by coalescing various and historic visions for the campus and surrounding community by creating an environment that connects market-responsive investments in housing, office space, retail, and hospitality with applied research facilities, academic buildings, convening areas, and open natural spaces.
"Our North Carolina legislators and Congressional representatives are essential in supporting SAU's mission and vision, with a singular focus on student success and sustainability, and our historical legacy in healthcare and higher education in North Carolina," said Dr. Carolyn Carter, Vice President for Institutional Advancement. "We need their voices, financial investment, and engagement as we continue to tell our story of 'The Miracle on Oakwood, where Falcons are no ordinary birds.'"
The activity of master planning at SAU will be guided by the 20 Minute Neighborhood framework and the Kresge Higher Education Ecosystem model. This discussion was outstanding as they shared updates from their respective offices, insights on upcoming legislation, and advice on how to work with their Administrations.
"We deeply believe, in the legislature, and the HBCU caucus, that Saint Augustine's University and St. Agnes Hospital can be reimagined," said Representative Hawkins. "It takes all of us coming together, bringing the resources and our great minds to keep this institution great, and today's meeting is the start of that."
Click here to learn more about the SAU Campus Community Master Plan.