SAU Grant Awards Surge 85%, Led by Increased Sponsored Research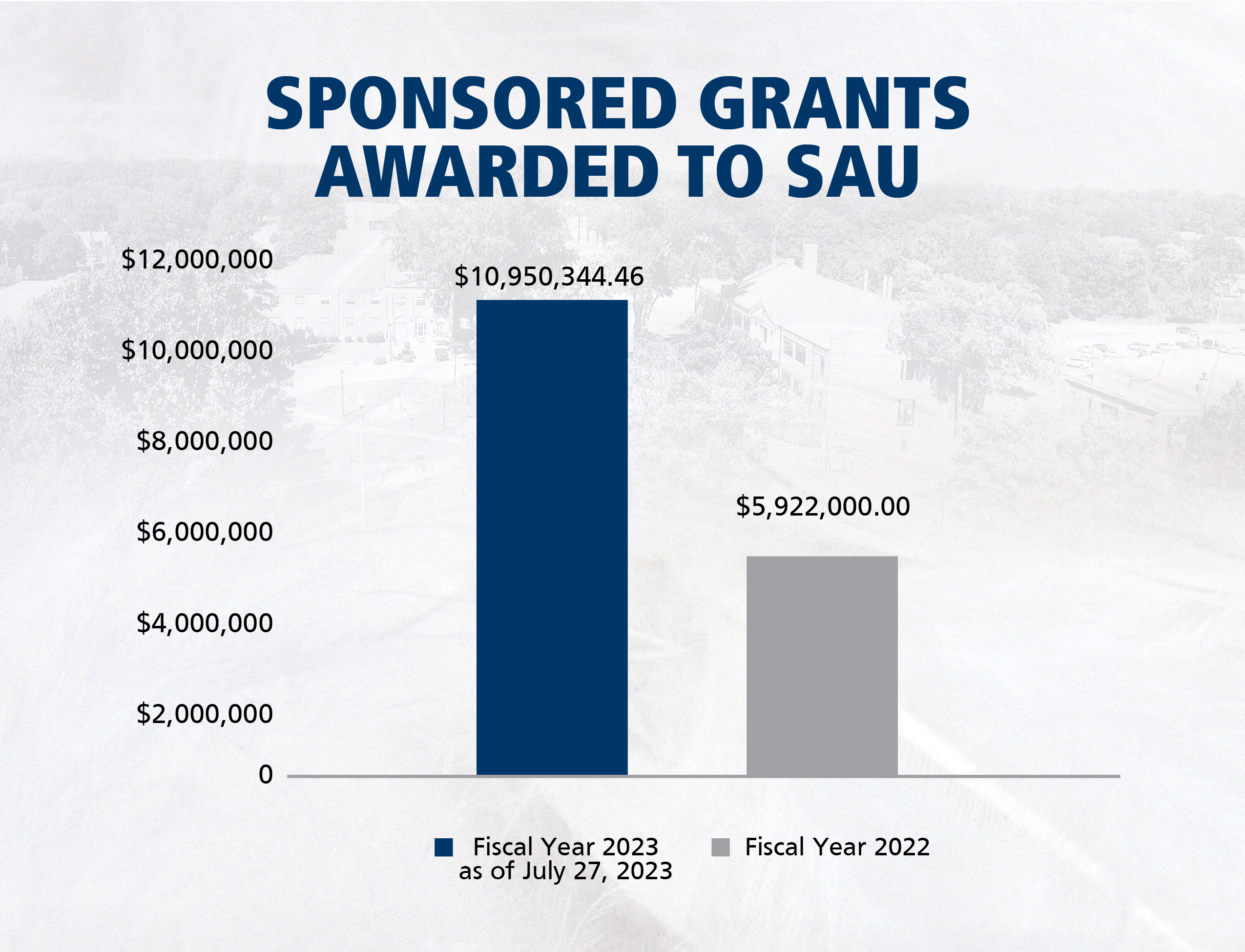 Saint Augustine's University (SAU) students and faculty are now more equipped than ever to find solutions to real-world problems. The university completed almost $11 million in grant funding in fiscal year 2023, an 85 percent jump from the previous fiscal year, thanks to an increased focus on research. 
"I am incredibly proud of the remarkable surge in sponsored research grants at Saint Augustine's University, which reflects the dedication and hard work of Dr. Runell King and Ms. Angela Sousa," said SAU President Dr. Christine Johnson McPhail. "This transformative growth showcases our commitment to academic excellence and our ability to create impactful research opportunities that benefit our students, faculty, and community." 
In 2022, Dr. McPhail appointed Dr. Runell King to lead SAU's Division of Institutional & Sponsored Research. Under Dr. King's leadership, SAU has experienced a revival of research on campus. While institutional fundraising campaigns and efforts generate donations and gifts, sponsored research grants and awards result from faculty submitting proposals and receiving project-specific funding.  
"This year at Saint Augustine's University, we're celebrating a transformative surge in grant activity, all thanks to the passion and dedication of our esteemed Division," said Dr. Runell King, Vice President, Institutional & Sponsored Research. "This newfound support isn't just enhancing our student experience; it's lighting the path for an even brighter, opportunity-filled future." 
SAU's increased focus on sponsored research aligns with trends associated with a 2020-2021 report from the National Center for Education Statistics, which indicates that private historically black colleges and universities (HBCUs) receive nearly 30 percent of their annual revenue from the federal government, 17 percent from tuition and fees and about 15 percent from private gifts and grants.  
"Much of the increase in funding attributed to the increase in research proposals submitted by faculty at the institution," said Angela Sousa, Director of Sponsored Programs. "As much of the external grant funding has switched to research-based funding and funding focused on workforce development and working with consortiums, the institution has adapted to these changes and began to focus on these funding opportunities." 
As a result of this growth, SAU undergraduate research aims to improve student retention and graduation rates among first-generation college students, women, and students of color majoring in science, technology, engineering, or math (STEM). Recent research accomplishments include but are not limited to:  
New Cultural and Community Resilience grants, such as the

 $749,000 grant from the National Park Service 

(NPS), will support community-based efforts to revitalize downtown with the Preservation of the Masonic Temple while providing an additional newly renovated performing arts theater for students, faculty, and staff.

 
NSF Louis Stokes Alliances for Minority Participation (LSAMP) grant funds used to provide retention tools for STEM majors.  
A

 $147,216 NSF STEM Ecosystem Analysis 

planning grant designed to conduct an institutional landscape analysis to understand and develop practical approaches to impact student persistence, STEM pedagogy, and undergraduate research.

 
Research funding from Delta Research and Educational Foundation (DREF), a national research dataset (Researcher Workbench) to inform thousands of studies covering various health conditions. Researchers will use data from the program to learn more about how individual differences in lifestyle, environment, and biological makeup can influence health and disease. 
Funding from the U.S. Department of Health and Human Services (HHS) Office of Minority Health (OMH) and the Centers for Disease Control and Prevention (CDC)

in partnership with Wake County Human Services

and their

Live Well Wake Program

to mitigate the impact of health and technology disparities in our communities by allowing us to focus on the different Racial and Ethnic Adult Populations in our immediate area Experiencing Disparities in healthy living and learning. 
A

$1,943,715 award 

from the Connecting Minority Communities Pilot Program (CMC), funded by the National Telecommunications and Information Administration (NTIA) Department of Commerce for its University Broadband Upgrade and Digital Equity Initiative. 

 
A cooperative agreement with our Criminal Justice department, the NCCU Juvenile Justice Institute, and Durham County's Department of Community Interventions and Support Services to help promote the safety and well-being of youth and young adults in the Durham community. 
Grants such as the

 $40,000 Retool Your School award 

aimed at making all classroom areas on campus energy efficient by replacing all lights with LED lights and grant to purchase multiple AEDs to install at key campus locations.

 
Click here to learn more about the SAU Office of Sponsored Programs.